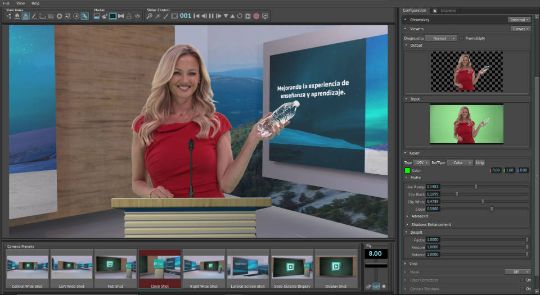 Brainstorm introduces the Edison Ecosystem at NAB 2023
Brainstorm showcases at NAB an expanded ecosystem based on Edison PRO, the easy-to-use and cost-effective solution for creating eye-catching live or online presentations and videos that include keyed live talents in virtual 3D environments.
Based on Brainstorm's 30 years of experience in broadcast, virtual sets, and AR, and designed to fulfil the requirements of smaller broadcasters, live events companies, corporations, and educational institutions, Edison PRO allows any user to create virtual productions with total ease, including virtual sets, XR and AR content.
The Edison ecosystem, built around Edison PRO, is a modular proposal that seeks to transform any live or online virtual content creation into an immersive experience through AR and virtual environments. It has been developed to help users enhancing their storytelling with real-time 3D graphics and other visual elements, while including themselves in the scene. Presenters are immersed in a virtual, photorealistic environment, and can easily run the presentation with clickers or with remote devices.
The Edison ecosystem includes custom-built capture environments and apps like Edison eDesk and EdisonGO, a simple-to-use but powerful creation system like Edison PRO and allows for control devices(Stream Deck) and free applications like Edison OnDemand so any user can take advantage of Edison PRO's powerful tools. Edison eDesk includes a portable chroma set and a desk with workstation, camera, and lights so it becomes a self-sufficient, ready-to-go solution. And if the user prefers to create fully realistic AR shows, the EdisonGO app uses an iPad Pro to provide video with tracking information to Edison PRO, which can then insert in-context AR objects of any kind. Last, but not least, Edison OnDemand is a free application that runs in a web browser, allowing users to instantly create a presentation just by connecting to a remote Edison PRO, select an existing background, add the required slides, and use the remote machine to run the presentation. So, users without any knowledge of Edison can create amazing presentations while more experienced users can develop such material.
"Brainstorm is proudly introducing the Edison Ecosystem at NAB 2023, demonstrating the infinite possibilities that virtual content creation technologies provide also for smaller broadcasters, advertising, live and hybrid events, corporate presentations or education" says Ricardo Montesa, CEO and founder of Brainstorm. "With the Edison ecosystem users of all kinds can take advantage of the most advanced virtual technology for their content creation, using a system that is both user-friendly and affordable."